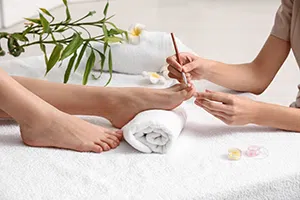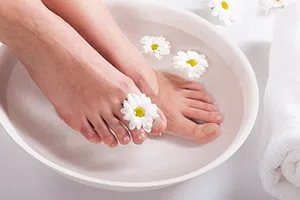 Classic Pedicure$35
The Classic Pedicure gives you a calming experience. It includes trim toes nail, cuticle cut, callus remover, sugar scrub, butter cream, and color of your choice.
Milk & Honey Pedicure$45
Hydrate and lock in the moisture with this pedicure that comes with the benefits of milk and honey! This nurturing pedicure treatment begins with a warm salt & milk-infused bath for the feet, offering the skin softening benefits of naturally occurring lactic acid (found in dairy milk). It also includes Classic Pedicure, and sugar scrub with fresh orange.
Cucumber Refresh Pedicure$45
Cucumber is great for dehydrated skin to help moisturize and tighten tired feet leaving it feeling moist and smooth. Enjoy this refresh treatment, that includes soak with salt, callus remover, cucumber scrub, mask, fresh cucumber, and cream butter.
Laguna Moon Pedicure$55
Indulge in the most complete hydrating treatment that helps boost circulation, relax your muscles, and increase skin elasticity. This moisturize treatment includes soak with rose flower, callus remover, sugar scrub, fresh orange, paraffin wax, soy candle massage, and butter cream.
Tropical Paradise Pedicure$65
Treat your feet to an unforgettable experience of pure pampering that softens the skin, eliminates dryness, and deeply relaxes you. This luxury treatment come with sea salt soak, callus remover, sugar scrub, fresh orange, mask, paraffin, hot stone, massage oil, and cream butter. The warm stone massage is one of the most natural relaxations and will make you feel fully serene!
BeU Signature Detox Pedicure$75
A detox treatment promotes stress release from the muscles, helps self-healing, softens the muscle; while nourishing and promoting soft skin for a youthful radiant glow. This treatment includes classic pedicure, hylar foot detox soak, sugar scrub with salt and fresh orange, paraffin wax, intensive cream & oil massage with massage, hot stone, butter cream, and mask fresh cucumber.
* Add Hylar Foot Detox Soak$15
Hylar Detox is a unique combination of premium-grade medicinalherbs and Pink Himalayan salt, containing 80+ different Minerals & Electrolytes. It effects on treating foot disorders such as foot fungus, foot odor; assist in smoothing, moisturizing, nourishing, and strengthening your foot skin & toenail. Moreover, Hylar Detox also helps enhance blood flow and circulation, oxygenate the blood, stimulate digestion, and so on. On top of those, the body's heavy metals and toxins are taken out whenever you use them.